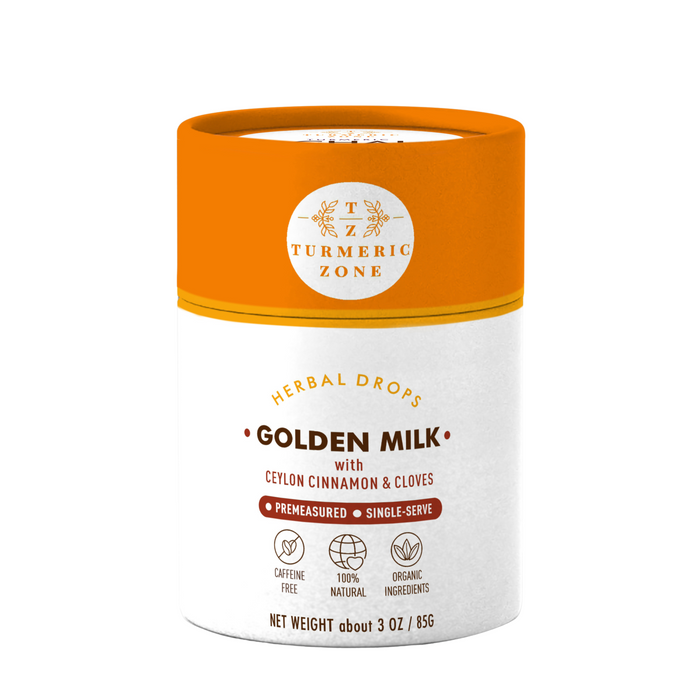 Turmeric Zone - Golden Milk Ceylon Cinnamon Herbal Drops - 3 oz
Original price
$23.99
-
Original price
$23.99
Turmeric & Ceylon Cinnamon Herbal Drops are made with 100% natural ingredients and are now available in a new biodegradable attractive paper tube package.
These herbal drops are carefully prepared based on ancient Ayurveda recipe, these drops mixes easily with any warm or hot drinks with unlimited uses. 

each drops are wrapped individually and carefully packaged in a beautiful square Tin Jar which weighs only 5 Oz with a transparent lid which can travel with you anywhere. 
Each tin contains approx 28 to 30 drops
Instructions:

Dissolve Divine Herbal Drops in a cup of warm milk to create a instant Golden Milk, or enjoy it as a tea, add it to your smoothie, oatmeal or hot cereal. 
All organic ingredients
Caffeine Free

100% all Organic Ingredients 
100% Pure Raw Honey
Ground Turmeric Root Powder
Ground Ceylon Cinnamon
Ground Black Pepper
Ground Cloves