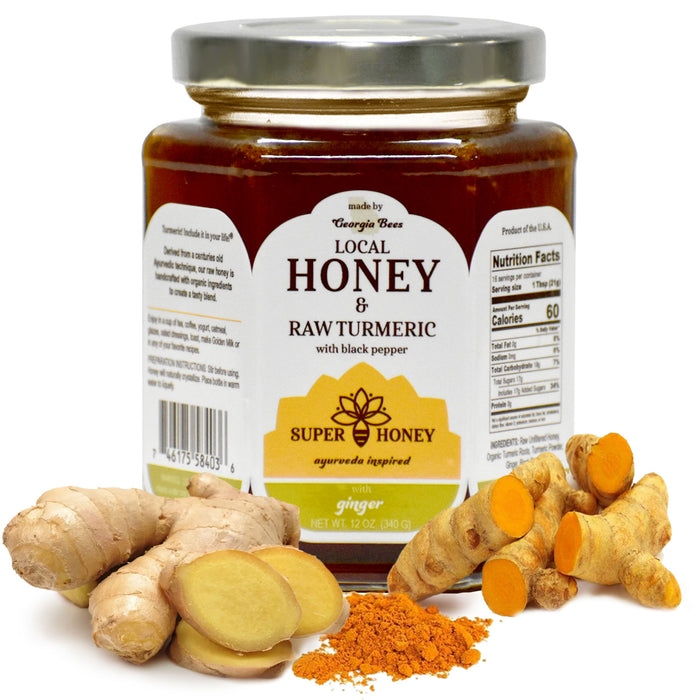 Turmeric Curcumin Ginger Natural Ayurvedic Pack
Original price
$28.99
-
Original price
$28.99
Experience the vibrant flavors of the East with our Turmeric Curcumin Ginger Natural Ayurvedic Pack. This incredible value pack brings together the finest ingredients to enhance your culinary creations and elevate your taste buds to new heights.

In this bundle, you'll find fresh, US-grown turmeric and ginger root, alongside a pack of exquisite organic turmeric powder. But that's not all - we've also included a 12 oz jar of our signature raw, unheated turmeric ginger honey with a twist of black pepper. This unique blend of turmeric, ginger, and black pepper adds a delightful sweetness and a hint of spice to your favorite drinks and smoothies.

What sets our turmeric honey apart is its origin. Made by Georgia bees, this local honey captures the essence of the region's rich flora. Enriched with the goodness of turmeric and ginger, it's the perfect go-to sweetener for those looking to add a touch of natural goodness to their daily routine.

But this pack isn't just about flavor and sweetness. It's an opportunity to expand your culinary skills and explore the diverse cuisines of Central America, India, and Asia. Turmeric and ginger have been cherished staples in these regions for centuries, adding zing, color, and earthiness to a wide range of dishes. By stocking up your pantry with these versatile ingredients, you'll unlock a world of new recipes and culinary possibilities.

When you choose our Turmeric Curcumin Ginger Natural Ayurvedic Pack, you're choosing pure and natural ingredients. We believe in staying true to the principles of Ayurveda, which means our honey is raw and unadulterated. You won't find any added sugars, food coloring, or artificial ingredients here. Just the goodness of nature, carefully crafted to bring joy to your taste buds.

So why wait? Indulge in the tantalizing flavors of turmeric and ginger, and experience the richness of Georgia's local honey. Elevate your dishes, sweeten your drinks, and embark on a culinary adventure like no other with our Turmeric Curcumin Ginger Natural Ayurvedic Pack.