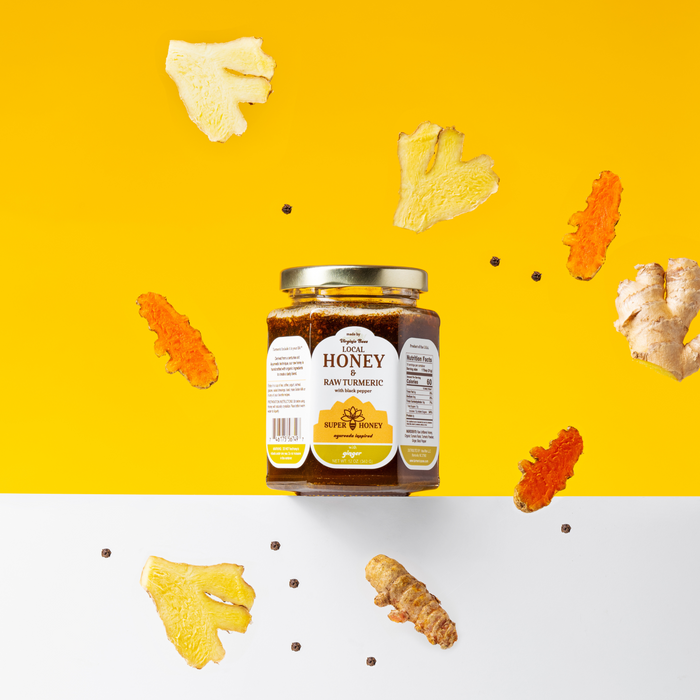 ⭐⭐⭐⭐⭐"The subtle warmth of ginger complements the earthy richness of turmeric" Super Honey - Turmeric Ginger Honey with Black Pepper Ayurveda Inspired Virginia Honey
Save

16

%
Save

16

%
Original price
$23.66
-
Original price
$47.32
What is included?
Speedy and Free Shipping: Enjoy the luxury of FREE USPS Priority Shipping on all orders exceeding $35, ensuring your wellness essentials reach you promptly and without additional cost.
Half & Half Shipping: For orders below $35, we've got you covered! Avail our $4.99 Split Shipping Cost—just pay half, and we'll take care of the rest. Because your satisfaction matters, even when it comes to shipping expenses.
Gift of Nature with Every Purchase: As a token of our gratitude, receive a FREE 1 oz Organic Turmeric Root with every order. Delve into the enriching world of turmeric, on us.
Risk-Free Experience: We stand by the quality of our products. That's why we offer a 7-day money-back guarantee on all purchases (including club memberships). Speaking of memberships, they're designed to be flexible—cancel anytime without hassle, because your satisfaction is our priority.
All the orders over $80 will receive one FREE Turmeric Chai Tea
For a limited time receive 2 Bottles for only $39.99 (Instead of $47.80)
7 Day Money Back Flavor Guarantee.

For any reason, if you do not like our this honey, just contact us and we will refund your money.
For a limited time receive 2 Bottles for only $38 (Instead of $47.80)
If you are an Amazon shopper, you may have came across with 1000+ reviews of our this honey. We are making it available directly from us.

Each order on our website includes complimentary 1 oz Organic Turmeric Root
Experience a harmonious blend of raw turmeric and handpicked herbs, creating a delightful flavor profile that is both bold and comforting

🌿 Nature's Best Ingredients:
Crafted with all-natural ingredients, our Turmeric Ginger Honey is a wholesome addition to your pantry, providing the goodness of raw turmeric and carefully curated herbs
🔥 Wellness Elixir:
Elevate your wellness routine with the natural warmth of ginger and the richness of raw turmeric, creating a golden elixir that not only tantalizes your taste buds but also supports your overall well-being
🌟 Versatile Culinary Companion:
From drizzling over morning toast to stirring into your favorite tea or incorporating it into salad dressings, our Turmeric Ginger Honey is a versatile culinary companion, adding a gourmet touch to a variety of dishes.
Elevate your tea ritual with a spoonful of Turmeric Ginger Honey. Watch as the golden elixir weaves a tapestry of warmth and flavor, turning your ordinary cup of tea into an extraordinary moment of blissful indulgence. 🍵✨
For a limited time receive 2 Bottles for only $39.99 (Instead of $47.80)