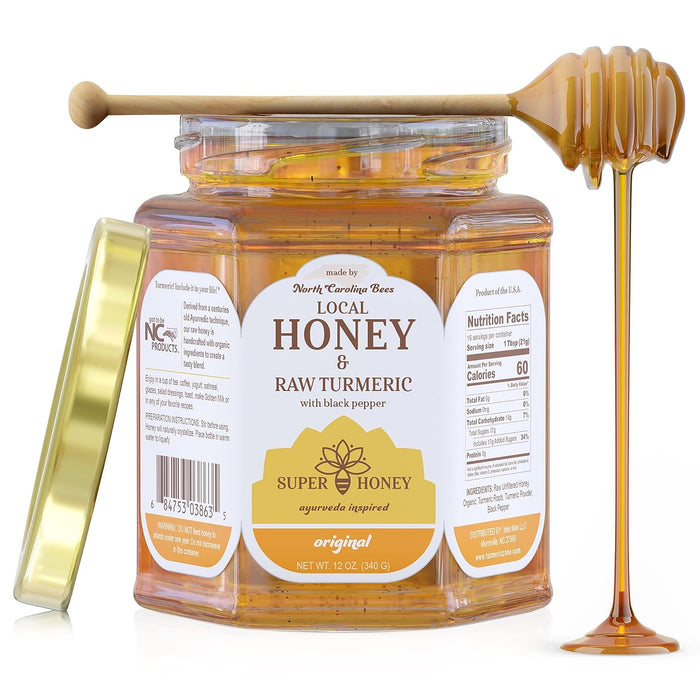 SUPER HONEY - North Carolina Turmeric Honey with Black Pepper - Ayurveda Inspired Pure Honey
Original price
$21.90
-
Original price
$57.00
SUPER HONEY is an Ayurveda inspired honey composed of pure North Carolina honey and a proprietary blend of organic raw turmeric and organic black pepper. This combination has been used for centuries to enhance the natural benefits of honey, creating a powerful and healthy sweetener.
Save more when you purchase 2 or more bottles. 
Delicious & Naturally Flavored - Our turmeric raw honey jar is naturally flavored (without any artificial flavors, coloring or preservatives - natural flavor comes from pure honey and herbs and spices) and adds a delicious twist to your favorite recipes and drinks. It's perfect for adding to tea, yogurt, oatmeal, or as a sweetener in baking. Perfect Honey for everything.

Pure Honey: Made from pure honey is sourced from local beekeepers of North Carolina. It is 100% natural and free from any additives or preservatives.


Raw Honey: It is harvested & created right here in US in North Carolina. We do not infuse our honey by cooking or heating up. We acquire our honey raw and keep it that way. 

Raw Turmeric - Our ancient Ayurveda recipes allows us to keep smooth texture without altering honey unlike any others. Our honey is raw and unfiltered, unprocessed. We have raw herbs and spice. It is not processed creamed honey. Thus it stays exactly as nature gave us.

Superfoods - The combination herbs and spice like turmeric, ginger, elderberry and black pepper that you will find in various of our honey. It is a natural way to include these functional ingredients in your daily life by using our raw honey

Natural Honey: Our natural honey is produced by bees. Unlike other honey in market, it is not processed or "manufactured by using some complex process" nature itself provides us pure honey without artificial additives. Enjoy the natural sweetness and health benefits.