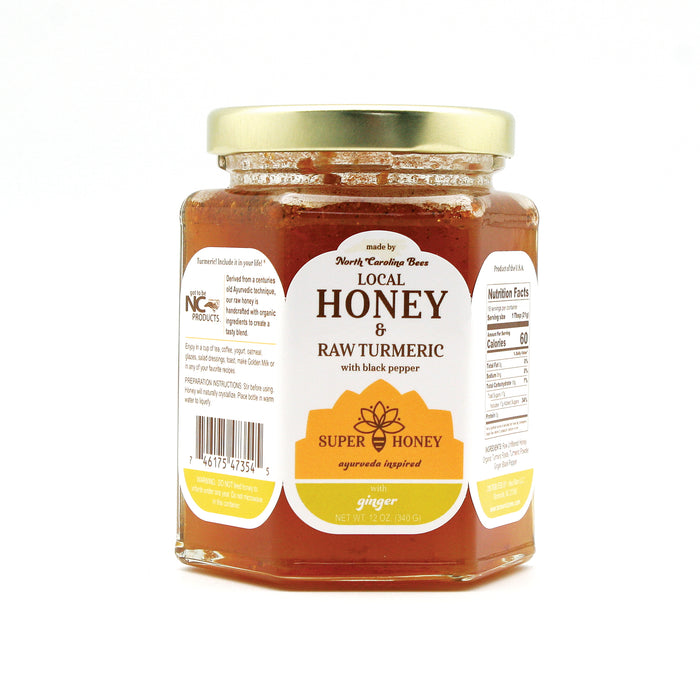 Turmeric Ginger Honey with Black Pepper | Super Honey | Wildflower Pure Honey | Raw Honey with Turmeric Ginger
Original price
$20.50
-
Original price
$20.50
This delicious honey is available in choice of 3 regional & local honey OR Eucalyptus Organic honey from Sunderban region India. (Image of the bottle represents North Carolina Wildflower Honey.

Each order on our website includes complimentary 1 oz Organic Turmeric Root
SUPPORT LOCAL: Proud member of Got to be NC. (Proud New Item Showcased in Flavors of Carolina 2020) - This honey is been selected as finalist of Made in NC Awards of 2020. We are minority owned small business based in North Carolina supporting local small US beekeepers. Support local US Honey. Support local Beekeepers.

AYURVEDIC AUTHENTIC HERBS: Organic Raw Fresh Turmeric Roots, Organic Turmeric Powder, Organic Ginger Powder,Organic Black Pepper

AYURVEDIC: Not an infused product, all ingredients are in it's natural state

PRODUCT DETAIL: 100% raw, unfiltered honey with organic ingredients. You will receive 12 oz one bottle of Turmeric Ginger Honey. This Pure Raw Honey with Turmeric is handcrafted RAW Unfiltered, Unheated and unpasteurized honey from North Carolina and Packaged and distributed from North Carolina. No chemicals, no artificial ingredients, pollutants or food coloring or no sugar. Just 100% pure raw Super Honey with Turmeric Ginger with Black Pepper.

TURMERIC INTAKE: The Only Turmeric Honey with Black Pepper. Black pepper helps turmeric absorption. Natural way to start taking turmeric in your daily diet. Best for Teas, Smoothies, Golden Milk, Toast or mix it with warm water, lime juice and drink this every morning.