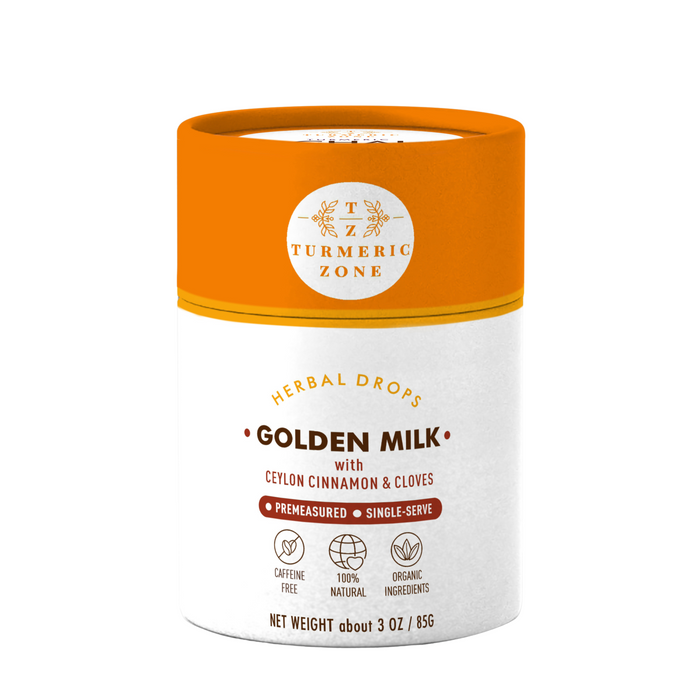 Turmeric Zone - Golden Milk Ceylon Cinnamon Herbal Drops - 3 oz
Original price
$28.41
-
Original price
$45.54
What is included?
Speedy and Free Shipping: Enjoy the luxury of FREE USPS Priority Shipping on all orders exceeding $35, ensuring your wellness essentials reach you promptly and without additional cost.
Half & Half Shipping: For orders below $35, we've got you covered! Avail our $4.99 Split Shipping Cost—just pay half, and we'll take care of the rest. Because your satisfaction matters, even when it comes to shipping expenses.
Gift of Nature with Every Purchase: As a token of our gratitude, receive a FREE 1 oz Organic Turmeric Root with every order. Delve into the enriching world of turmeric, on us.
Risk-Free Experience: We stand by the quality of our products. That's why we offer a 7-day money-back guarantee on all purchases (including club memberships). Speaking of memberships, they're designed to be flexible—cancel anytime without hassle, because your satisfaction is our priority.
All the orders over $80 will receive one FREE Turmeric Chai Tea
Natural Goodness, Attractive Packaging:
Indulge in the pure blend of nature with our Turmeric & Ceylon Cinnamon Herbal Drops, now beautifully packaged in an eco-friendly, biodegradable paper tube.

Ancient Wisdom, Modern Convenience:

Crafted based on an ancient Ayurveda recipe, our herbal drops effortlessly infuse with any warm or hot drink, bringing the wisdom of centuries to your daily routine.

More Drops, More Delight:

Each tin holds a treasure of approximately 28 to 30 drops, ensuring you have an ample supply of goodness for your daily rituals.

Golden Instructions:

Transform your warm milk into instant Golden Milk by dissolving our Divine Herbal Drops. Or, get creative—add it to tea, smoothies, oatmeal, or hot cereal for a delightful twist.

Organic Purity:

Embrace the goodness of 100% organic ingredients, including Pure Raw Honey, Turmeric Root Powder, Ceylon Cinnamon, Black Pepper, and Cloves in every drop.

Holistic Wellness, Sip by Sip:

Elevate your well-being with the holistic benefits of turmeric and cinnamon. Sip on the goodness of nature with every drop, promoting a healthy and balanced lifestyle.

Carefully Curated Recipe:

Our drops are a result of meticulous preparation, ensuring the perfect balance of ingredients that not only taste great but also contribute to your overall wellness.

Unlimited Possibilities:

Beyond beverages, explore the versatility of our drops in various culinary creations. From beverages to recipes, the options are limitless.

Limited-Edition Perfection:

Seize the opportunity to experience this limited-edition perfection. Unbox a world of flavor and wellness with our Turmeric & Ceylon Cinnamon Herbal Drops.