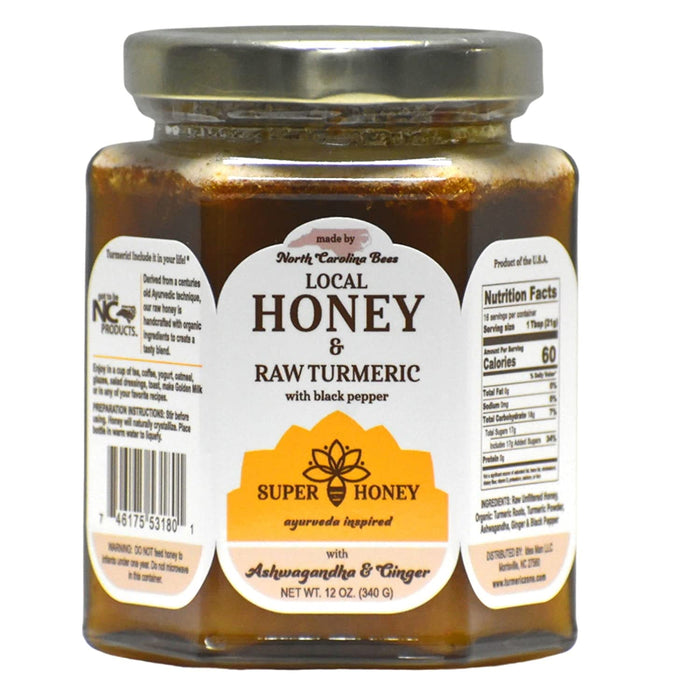 Turmeric Ashwagandha Ginger Honey w/ Black Pepper
Original price
$23.99
-
Original price
$25.00
This delicious honey is available in a choice of 2 regional & local honey OR Eucalyptus Organic honey from the Sunderban region India. (Image of the bottle represents North Carolina Wildflower Honey.

✅ UNLEASH THE SUPERFOOD - This is one of a kind and it is the newest addition to our Ayurvedic Honey Family after our Turmeric Ginger Super Honey Ayurveda Inspired Product. Get all 3 mega superfoods in 100% RAW Unfiltered honey

✅ 12 oz GLASS JAR - Our honey comes in a glass jar to keep it fresh. You will be able to put our glass jar honey in the case when honey crystallizes because real honey does crystallize. It is not sugar or it is not bad honey but it is another way to prove that it is 100%, real honey.

✅100% ORGANIC INGREDIENTS - Organic Fresh Raw Turmeric Roots, Organic Turmeric Powder, Organic Ashwagandha Powder, Organic Ginger Powder & Organic Black Pepper. Pure and USDA certified organic ingredients

✅ GOLDEN MILK HONEY - A perfect honey for your golden milk, turmeric latte, or turmeric milk. Our Turmeric Ginger and Ashwagandha honey is a unique superfood by itself make a perfect pair with any of your hot or cold beverage.